Ordering
Pay with
or by wire transfer
ATTENTION: ESD HAZARD!
MikroMasch High Resolution Silicon Probes
are packaged in special vacuum-sealed ESD shielding bags. While the probes remain in the closed ESD protective bag, there is no risk of ESD damage.
Before opening the ESD bag in an ESD-protected area please ensure that you are grounded (e.g. with a static dissipative wrist strap or ESD-protective footwear) and the gel box is on ground potential (e.g. by using a grounded pad).
More AFM probes with Chromium-Gold coating
Hi'Res-C14/Cr-Au
Probe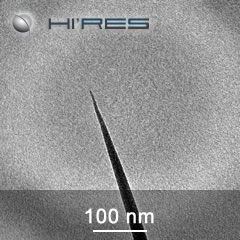 1 nm
1 nm
100 - 200 nm
< 1 nm
12 - 18 µm
n-type silicon
0.01 - 0.025 Ohm*cm
Gold*
Gold
MikroMasch Product Screencast on High Resolution Probe Series

MikroMasch HQ Line Product Screencast on High Resolution Probe Series, presented by Dr. Penka Terziyska, Product Manager
www.spmtips.com
Cantilever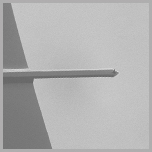 SEM image of the cantilever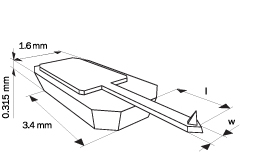 Schematic drawing of the cantilever
Cantilever
Resonance Frequency, kHz
Force Constant, N/m
Length
l ± 5,
µm
Width
w ± 3,
µm
Thickness
t ± 0.5,
µm

min
typ
max
min
typ
max
14 Series
110
160
220
1.8
5
13
125
25
2.1
*The coating does not cover the spike