Conducting DPER probe
Application notes
The DPER probes are made by depositing a thin metal coating on Si tips. While the thickness of the coating on the flat cantilever surface is about 20 nm, there is only slight 4-5 nm increase of the tip dimensions compared to the bare Si probes.
The tip radius of each DPER probe is individually controlled on SEM and is guaranteed to be below 20 nm.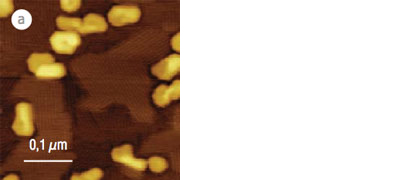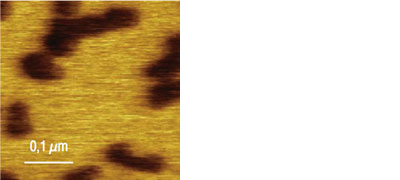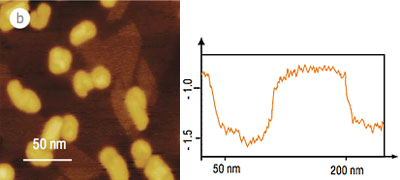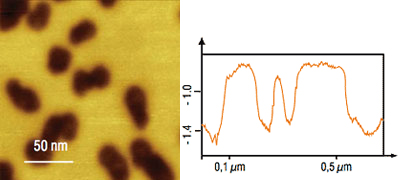 The sample is the semifluorinated alkane F14H20= F3(CF2)14(CH2)20CH3deposited on graphite. The shape of brighter features in scans made by DPER probe (a) is not as rounded as in the image made with the thicker probe (b).

In addition to self-assembled structures on the top, the lamellar structures with 6.3 nm spacing can be clearly seen in the underlying layer in DPER image (a). Still the better signal-to-noise peformance in surface potential images cannot be achieved with DPER probe (a) in comparison to (b).

Images were obtained in single-path KFM mode with Agilent 5500 scanning probe microscope by S. Magonov (Agilent Technologies).
Product Specs
Cantilever tip is coated by continuous 15 nm Pt film.

Detailed specifications »