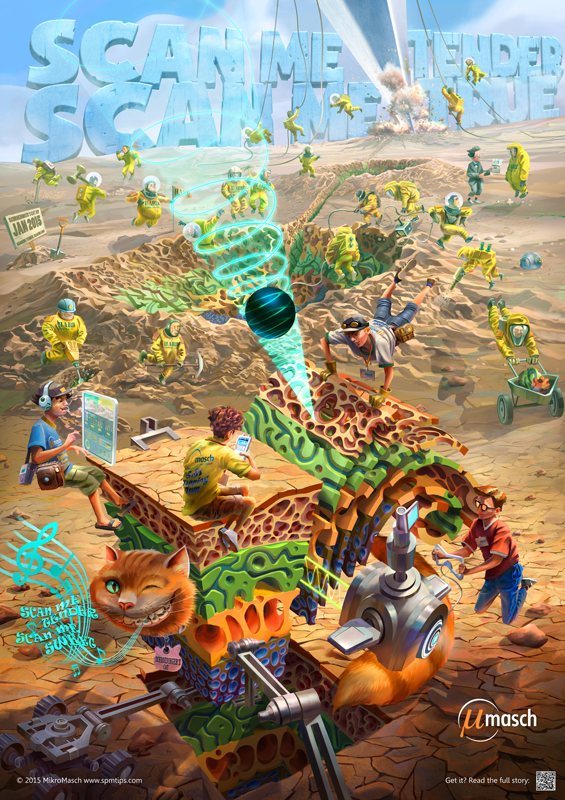 Is Schroedinger's cat dead? Is it alive and enjoying its encounter with the Soft Tapping team? Will Dr. Schrödinger ever find his cat again (did YOU find him on the poster)?
…or will the Hard Tapping guys kill the cat with their rough experiments?
More on this channel in the future … But whatever the answer, soft tapping probes are essential for non-destructive investigation of soft samples in tapping mode.
Compose your own vision of our Schroedinger's Cat poster - on our Facebook page.
The best 3 interpretations will be rewarded with a package of
HQ:NSC14
AFM probes and will be published on our website.
Contest ended!
Learn about Soft Tapping Mode in:
Тhe stories of our winners:
It seem to be the next ordinary day in the SPM Lab - the hard tapping team was digging holes on something, and the soft tapping guys were making jokes on them. Today's subject was "What would happen if something alive lives on such a noisy and cracked place as their sample appears after measurement".
Suddenly, a flurry smile appeared next to the soft-tappers...
see full story on Facebook
AND

Schroedi had a big ol' cat
Big old cat, big old cat,
Schroedi had a big ol' cat
Which purr sound'd like a song...
see full story on Facebook