GENERAL PURPOSE AFM PROBES
Application
Most of the routine topography imaging experiments require probes of about 8 to 10 nm radius. Using these probes, lateral resolution down to 5 nm is attainable for scan size below 1 μm. Usually, sharpened silicon etched probes are used for general purpose measurements.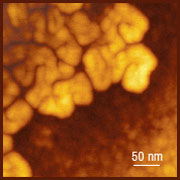 Probes
hq:nsc probes
The HQ:NSC and HQ:CSC probe tips have trihedral shape. There is a wide range of available cantilever geometries and special coatings for tip and cantilever backside.
8 nm
8 nm
< 8 nm
40°
12 - 18 µm
n-type silicon
0.01 - 0.025 Ohm*cm
ORDERING OPTIONS
Click on a product type below to order online.
GENERAL PURPOSE PROBES
Lateral resolution down to
5 nm for scan size below 1 μm.