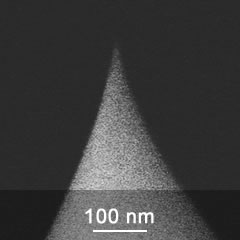 HQ AFM tip close-up
Typical radius of uncoated AFM tip
8 nm
Full AFM tip cone angle*
40°
Total AFM tip height
12 - 18 µm
AFM probe material
n-type silicon
AFM probe bulk resistivity
0.01 - 0.025 Ohm·cm
*The full cone angle may be less than 40° at the last 200nm of the AFM tip end.
The HQ:NSC and HQ:XSC AFM tips have trihedral shape. The standard tapping mode AFM probes feature stiff AFM cantilevers with high resonance frequencies and force constants above 40N/m. These AFM probes are generally used for imaging hard samples where high topographic and phase contrast are needed. They are also suitable for non-contact mode operation.
The optional aluminum reflective coating enhances the laser reflectivity of the AFM cantilever by approximately 2.5 times.
There is a range of available AFM cantilever coatings for the tip side and back side. Please check the other catalog categories for coated versions of standard tapping mode AFM probes.
The highly successful HQ series now extends over all AFM probe series with 1,3 and 4 AFM cantilevers.
1 AFM Cantilever Series

AFM Cantilever
Resonance Frequency, kHz
Force Constant, N/m
min
typical
max
min
typical
max
15 series
265
325
410
20
40
80
16 series
170
190
210
30
45
70
4 AFM Cantilever Series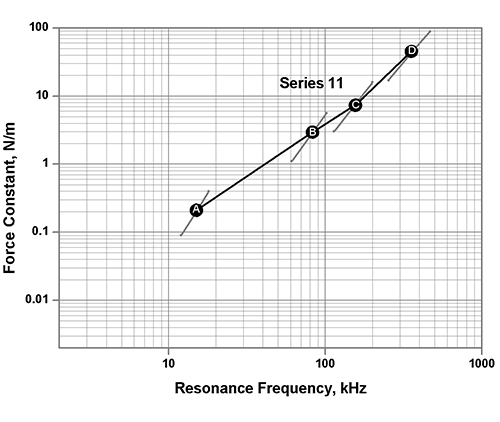 AFM Cantilever
Resonance Frequency, kHz
Force Constant, N/m
min
typical
max
min
typical
max
11 series
Cantilever A
12
15
18
0.1
0.2
0.4
Cantilever B
60
80
100
1.1
2.7
5.6
Cantilever C
115
155
200
3
7
16
Cantilever D
250
350
465
17
42
90
Videos