CONDUCTIVE AFM PROBES
Though silicon is conducting in bulk due to the presence of the dopants, the surface of the probe is always coated by a thin (1 - 2 nm) native oxide film. That is why using the conductivity of Si probes for AFM measurements is only possible in UHV conditions after the film is removed.
For imaging of electric properties of materials in ambient conditions, probes with special conducting coatings are usually used.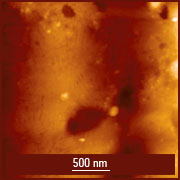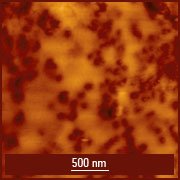 Height and phase images of the rubber-modified isotactic polypropylene filled with carbon black. The images were obtained in Electric Force Microscopy mode using NSC14 probes coated with Pt. Images courtesy of S. Magonov (Veeco).
Probes
ORDERING OPTIONS
Click on a product type below to order online.
CONDUCTIVE PROBES
Probes with special coatings for conductive AFM modes.